Discover more from The Other Wave
An innovation newsletter about challenging the status quo in Canadian journalism.
The most urgent threat of our time? Hint: It's not the climate crisis.
I promised a shorter newsletter and it is! By 22 words! You won't regret reading to the end.
Hey y'all! Anita here. First off, I'm humbled by the enthusiastic response to The Other Wave's debut newsletter. Thanks so much for your support, and welcome to all my new subscribers 👋
As a professional communicator, I think a lot about polarization and tribalism, as well as how these twin forces have reduced public discourse to extremes. We're living in a time when considered, nuanced perspectives are increasingly demonized for their lack of "purity," while hot takes are celebrated for their perceived boldness.
That's why polarization is the biggest threat facing humanity right now. If we can't move past this scourge to collaborate on solutions to complex issues like the climate crisis, then...we're pretty much toast. In the words of my very wise former colleague, Wawmeesh Hamilton, "You can't vote anyone off the island." Or, as many of us learned in kindergarten — let's all say it together now! — when we work together, good things can happen.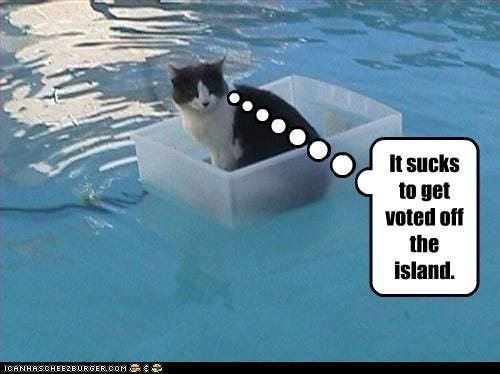 It really does.


My outsider's approach
Ed. note: The findings from this section are part of an American Press Institute (API) project about industry-wide local news challenges and solutions for which I was a consultant; it'll come out over the next couple of weeks, so be sure to read my upcoming newsletter or follow me on Twitter for the API link.
My favourite example of genuine collaboration in journalism comes out of Detroit, Michigan. The Detroit Free Press, the largest daily newspaper covering Metro Detroit, has been in business for 189 years. But over the past three decades, as deindustrialization ravaged Detroit and newsroom budgets shrank, press coverage migrated out of the city and into the more affluent suburbs. One major problem? The city is 80 percent Black, while its suburbs are largely white, so the Free Press's reporting was overlooking the majority of Black Detroiters and a sizable chunk of Metro Detroit's total population. Such a massive coverage gap is bad for democracy. Research shows that people who don't have access to local news are less likely to vote, to participate in civic life and to trust their neighbours — the last of which is particularly troubling for a place where de facto racial segregation continues to cause ongoing tensions between Black and white Detroiters. 
Enter BridgeDetroit, a nonprofit journalism and engagement organization that launched earlier this year. It collaborates with Detroiters to surface and cover issues that matter to them. Almost equally as important, BridgeDetroit also collaborates with the Free Press to fill in gaps in the latter's news coverage; this is encouraging because BridgeDetroit's team is entirely made up of people of colour, nearly two-thirds of whom are Black journalists with deep roots in the city and deep connections with their fellow community members.
Their partnership — a legacy newspaper working with a digital news startup to truly serve Metro Detroit and all of its residents — is a beautiful example of what happens when competing ecosystems choose to collaborate with, rather than dominate, each other. It's a win-win-win situation for the Free Press, BridgeDetroit and most importantly, the people of Detroit. It's also an approach that can easily be replicated in cities and towns around the world — as it should be given the growing number of local news deserts, which have been exacerbated by COVID-19. (Hint: This approach will also be part of my new, yet-to-be announced publication.)
My insider's approach
In advocating for equity in Canadian journalism, I've found that one of the most — if not the most — important factors for success (i.e. progress) is being able to identify earnest allies who are committed to doing the work. Not out of fear. Not just for show. Not to curry favour with leaders of a growing movement in a time of industry disruption. But because they genuinely understand, or are at least willing to learn to understand, the need for change and the collective value of these efforts.
And because these allies are embedded in a community (in this case, the Canadian media industry), they're better positioned to evangelize on behalf of the innovators (in this case, the Canadian Association of Black Journalists and Canadian Journalists of Colour representing racialized journalists). Here are excerpts from a Harvard Business Review article that speak to this dynamic: 

"These innovators' uncommon practices and behaviors enable them to find better solutions to problems than others in their communities. They are the key to this approach to change."

"The key is to engage the members of the community you want to change in the process of discovery, making them the evangelists of their own conversion experience."

"In the positive deviance model, problem identification, ownership, and action begin in and remain with the community…[so] disbelief and resistance are easier to overcome."

That's why I've taken this approach in CJOC and CABJ's meetings about our Calls to Action (CTAs) to strengthen newsroom diversity with executive management at English- and French-language media outlets in Canada. Here's the breakdown of my thought process:
The Diffusion of Innovation theory explains how, why and at what rate new ideas are spread: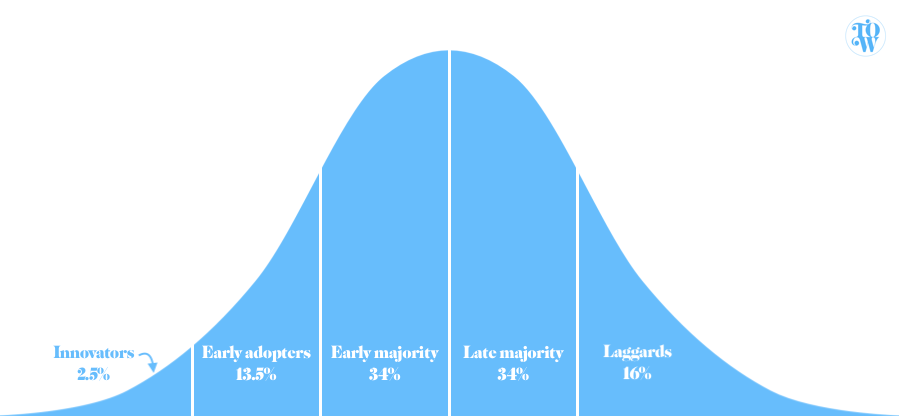 The Diffusion of Innovation theory.

The Spectrum of Allies framework is a strategy tool that involves identifying specific groups of people across a spectrum, from your most active allies on the left to your most active opponents on the right, then developing tactics that'll move each group one wedge to the left (note that this does not correlate with political alignment):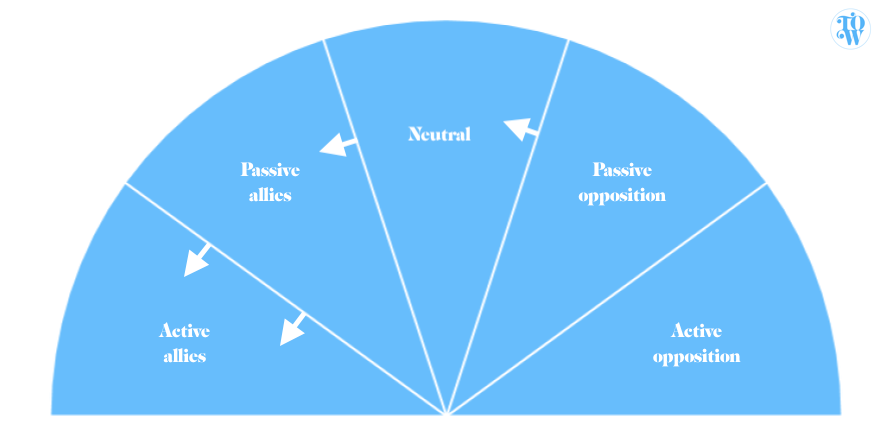 The Spectrum of Allies framework.

The Diffusion of Innovation suggests that people in each "adopter" category have different characteristics, which are important to understand so you can properly identify who will help or hinder the adoption of your idea. Based on these characteristics, I can determine how each Canadian media outlet we spoke to fits into the Spectrum of Allies, which makes it much easier to develop targeted tactics to help move each group one wedge to the left. 
Innovators provide thought leadership

Early Adopters are Active Allies who support and promote your idea

Early Majority are Passive Allies who support but won't yet promote your idea

Late Majority are Neutral people who are uninformed and unengaged

Laggards include Passive Opposition who disagree but aren't trying to stop your idea, and Active Opposition who disagree and are fighting against your idea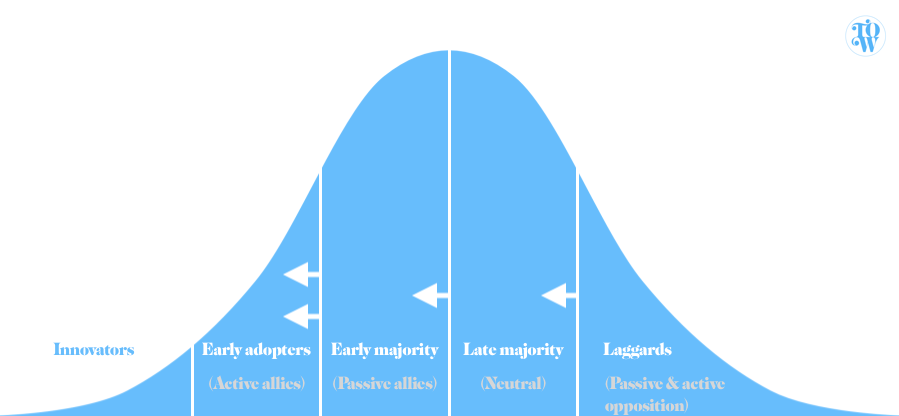 The Diffusion of Innovation theory combined with the Spectrum of Allies framework.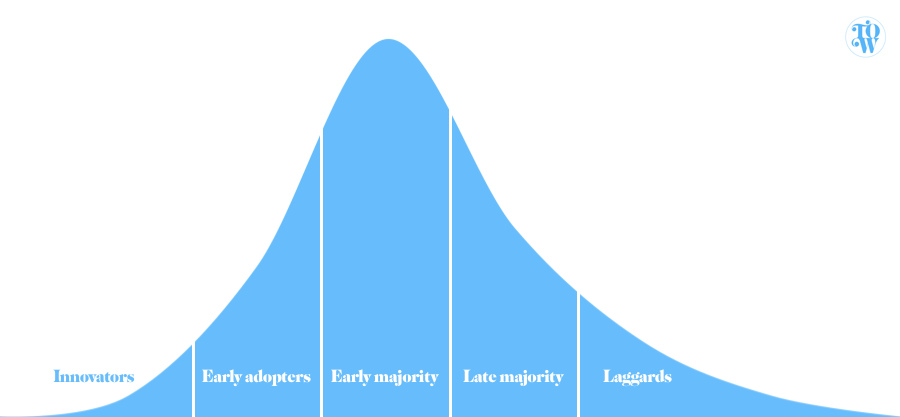 The expected result.

In my next newsletter, I'll get more in-depth about the institutions that fall into these categories, and the behaviours to look for when trying to identify true allies. Stay tuned…
---
In my community
---
Cool stuff I like
"Sweatpants Forever: How the Fashion Industry Collapsed," a New York Times Magazine article that got me thinking about the fashion industry's strong parallels with journalism, specifically how the rise of the Direct-To-Consumer (DTC) business model in a broken fashion system is similar to the media industry's increasing embrace of reader revenue over ads

The New Corporation: The Unfortunately Necessary Sequel, a new Canadian film that debuted at this year's Toronto International Film Festival (if you attended a Canadian high school in the 2000s, you likely saw the first movie, The Corporation); it explains how corporations' attempts to rebrand as socially responsible are threatening democratic freedoms
---
Shout-outs
Many thanks to The Other Wave's newest monthly paying supporter who donated in memory of Hazar Sawaf (and who wishes to remain anonymous).
---
How you can support The Other Wave
My professional mission has always been to support the global movement towards more thoughtful, impactful news coverage, and all the ways that manifests. If The Other Wave gets you to think even a little differently about journalism, especially in Canada, then I will have accomplished what I set out to do. And if TOW gets you to take action and support Canadian media outlets — especially ones that strive to be innovative and inclusive — I will have exceeded my expectations.

If my values and goals resonate with you, I'd really appreciate any contribution you can make to The Other Wave, whether it's providing feedback, passing along resources, donating money or simply sharing this newsletter with your friends.

See ya in two weeks,
Anita